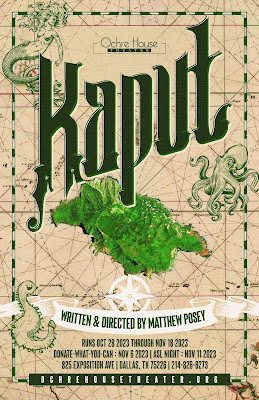 Kaput
Written and Directed by Matthew Posey
Music Direction by John Locklear
Produced by Ochre House Theater
Thar' she blows! A new riotous and irreverent show splashed onto the scene and dropped anchor at the Ochre House Theater. Kaput, a whimsical seafaring musical comedy invites you on a journey of introspection and swashbuckling fun (written and directed by Matthew Posey and musical direction by John Locklear).
We join gravelly-voiced Captain Chuck (played by Brian Witkowiscz) aboard his quirky magical tugboat Tappy (played by Erin Everywhere). Their tomfoolery and friendship delights and amuses throughout the performance.
Along their voyage, they meet a plethora of personalities and challenges across the seas they explore. Among these characters, they invite along a pair of siblings: saucy French-spoken Tulip and plucky Poppy (played by Janet Dodd and Lauren Claire Massey respectively). Together, the rag-tag team takes on an expedition of self-exploration. Dodd fits like a glove into her aloof and alluring Tulip, and Massey's eager optimism grounds the show in a worthy pursuit.
The show features several moments where members of the cast rotate through several amusing characters – chiefly by Cassie Bann and Brad Hennigan. Each impresses with hilarious transformations from bar-going narrators, rude fish, and flamboyant creatures of the deep, to name a few.
A special feature of Kaput's charm was the interactive 3-member group of pirate-clad musicians collaborating for each song, interlude, and sometimes, sound effects (Guitar, Bass, and Accordion played by Gregg Prickett, Aaron Carlo Gonzalez, and Elijah Clements respectively). Their skill lends to the overall impact and humor of the performance.
The production team uses their venue well. In their cozy space, the lighting complements the set well and the designs boast colorfully-painted waves and island elements - sometimes manipulated by the cast to communicate action and changes of scene (Lighting Design, Set Design, and Scenic Design by Kevin Grammer, Matthew Posey and Isaac Davies respectively).
Kaput proves to be an entertaining adult musical comedy not taking itself too seriously. Though the plot and people of the story are zany at times, the cast and crew boldly present their self-referential saga on the seas leaving much to admire.
Don't miss your opportunity to see this entertaining show while you still can. Kaput plays October 28 through November 18 Wednesdays through Saturdays at Ochre House Theater in Dallas, Texas (Just down the street from Fair Park!).
Audience Rating: R
Run Time: 1 hour 15 minutes, no intermission
Accessible Seating: Available
Hearing Devices: Not available
Sensory Friendly Performance: Not Available
ASL Performance: Nov 11, 2023
Production Sound Level: Comfortable volume level
Noises or Visuals to Prepare For: Brief instances of flashing and strobe lighting used. Staging includes fake weapons frequently. Some reference to the Nazi regime.
Check it out!
Grant Palmore