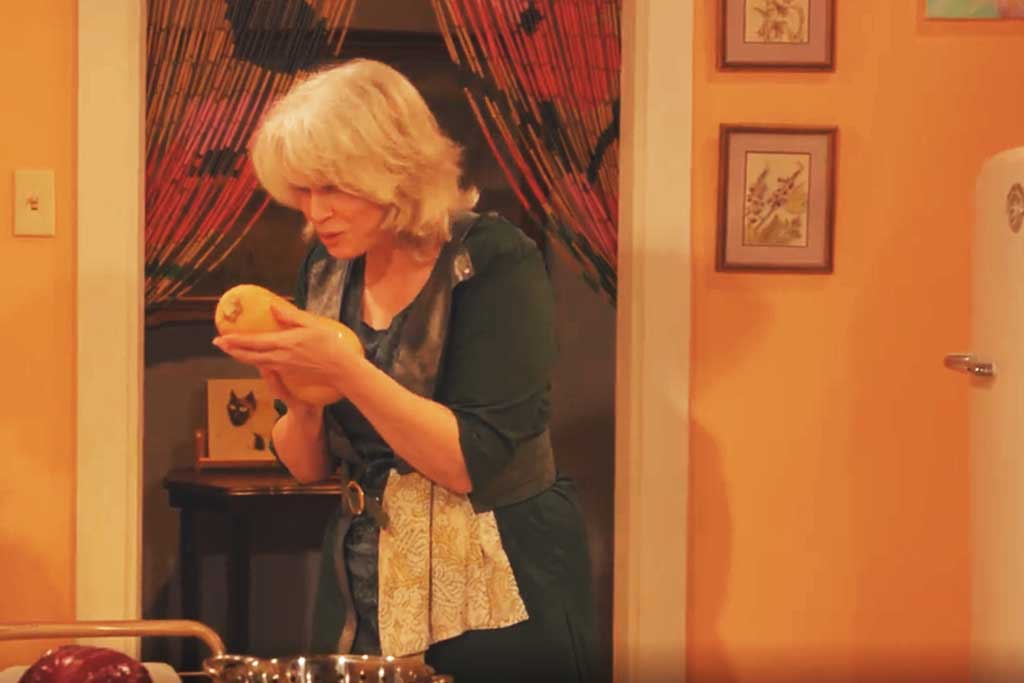 Supernova Leftovers, written and performed by Carla Parker, is part of Ochre House's Ghosts in the Kitchen Virtual Theatre Series, involving a woman (who may be named Janie) cooking and conversing with herself, as folks who find themselves alone, often do. Even if they cohabitate. There are vegetables on the kitchen table, she pulls more from the refrigerator, she sets a stockpot on the stove, in preparation to make soup or perhaps a stew. The kitchen is brightly colored, pictures on the walls, warm hues, very chipper and encouraging. She opens a pack of smokes and that's when her internal dialogue becomes clear. Words spoken aloud are relatively few. It seems to be a tug of war or persistent struggle between the self that fails, despite good intentions, and the self that constantly admonishes her. Tragically, there seems to be nothing morally wrong with her, other than resentment for pushing an enormous boulder up a mountain every day, only to watch it roll back down again. Sound familiar?
It's not unusual to wrestle with our desire to be transcendent, devoted human beings that belong to a community guided by altruistic values. Help the destitute, heal the ailing, love each other, despite our flaws. But Janie's pathology has dragged her into realms of self-loathing and hysteria. She aches to fulfill her best qualities, but despises herself for falling short. Her self-deprecating side feels more like self-sabotage than ongoing vigilance to confront shortcomings. She is quite beautiful, obviously intelligent and gifted, yet this internal tormentor won't let her love herself. Disassociative behavior: dancing frenetically in a cloud of pink tulle is profoundly unsettling, negating her calm, if subtly neurotic exterior. When she starts addressing a butternut squash as if it were an infant, it seems amusing at first. Then it seems more plausible she's trying to bandage early abuse.
Supernova Leftovers explores an otherwise lovely life, marred by the grotesque folly of unabated self- persecution. What might at first appear to be unflinching self- examination, becomes a vehicle for self-torment. Nobody's expected to coast through life without self-awareness, but Janie's misery lies (excuse the expression) in letting the perfect be the enemy of the good. A supernova might be an exploding star a billion times brighter than the sun, or a celebrity who abruptly bursts onto the scene. Who among us hasn't been held in thrall by remarkable joy bestowed by a benevolent deity? Janie's impossible self-expectations seem too phenomenally overwrought to be of her own making, though the origins are barely detectable. Ms. Parker's piece is a masterfully realized, complex depiction of a caring soul, destroyed by a culture driven by abstraction and draconian consequences.
Ochre House presents: Ghosts In The Kitchen Virtual Theatre Series: Supernova Leftovers, written and performed by Carla Parker.
Dates: Streaming: April 8 – April 18, 2021. Time: Thursday – Sunday / 12pm-12pm each day
Admission: Pay Online: www.ochrehousetheater.org /$10
Reservations: Online: www.ochrehousetheater.org or for assistance: (214) 826-6273