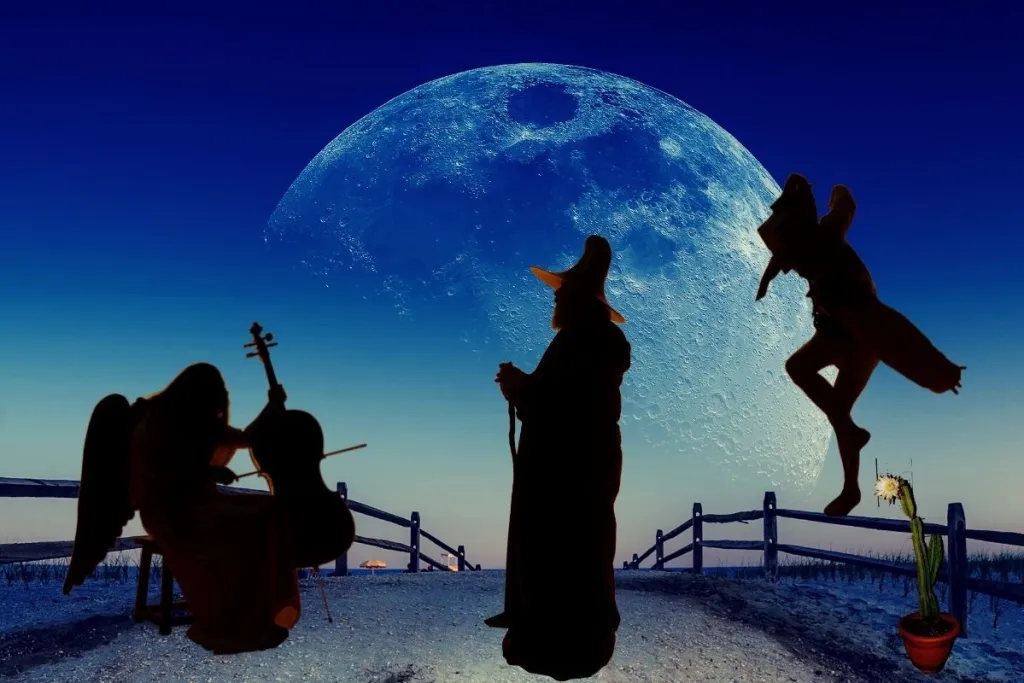 A Wizard (The Lazarus) Ednocah, a captured Angel (Ednocah) and the Cuckoo Bird (Null Nath Ani) converge to assist Lazarus. He is the man they call "father", and he aches to marry the Moon. Ednocah is blindfolded and plays the cello. She does his bidding, but is never abused or degraded in servitude. Same for Null, a wildly kinetic guy, like Peter Pan, barely dressed. He first appears wearing a Kellogg's Cornflakes Box, like a mask. Like the Frog Prince, he pines for his days as a creature, rather than mortal. Wizard found Cuckoo in the jaws of a wolf, and rescued him from being devoured. Eventually Lazarus compels Null to assist in the spell (by which he will woo the moon) translating from the designated text, providing instruction to his Lunar Smitten Papa.
In some ways we might perceive this performance as living tableau, the Angel singing and bowing her cello, sweetly, solemnly. Lazarus the raving, visionary sorcerer, rushing through primordial digs, nattering, bumping, spilling scalding tea. Null, leaping and hopping, making shrill bird noises. Resentful and despondent. There are flasks and vials for elixirs and mickeys. A table that's probably an altar as well. The room is half parlor, half chamber for eliciting charm and enchantment. Upstage is a "window" revealing the enormous, phenomenal, moon. As we might expect, presented as female. As we settle in, we notice her eyelids fluttering. This depiction evokes the moon from early days of film when the Melies Brothers shot their story of dizzy wizards taking a rocketship to the moon.
Ochre House has so many unique, otherworldly, frenetic gifts when it comes to theatre as strangeness. Theatre as evocation. Theatre as ritual. As the narrative of Under the Moon unwinds we feel we have stumbled into the wrong place. This milieu with its stone and bubble and talisman and relaxed mixture of benign and defiant ids. We are transported. We are welcome intruders. We are gobsmacked voyeurs. Who but the tremulous nymphs and goblins at Ochre House would have such deadpan, palpable audacity? Who among us has not been intoxicated by the enigmatic, seductive moon? What guy doesn't shudder at the thought of circumcision? From time to time, haven't we been homesick for swooping from tree to tree, crying out in unbridled, sprawling sentience? Under the Moon takes the elemental, the mystical, the heartsick, and sweet madness that mortality whispers to us, and bestows it without fear.
Go. Go. Go.
Ochre House presents: In The Garden: Under the Moon (written and directed by Matthew Posey) playing June 1st-4th, 2022. 825 Exposition Ave, Dallas, TX, United States, Texas 75206. (214) 826-6273. www.ochrehousetheater.org