The Romantic Night
Written by Matthew Posey
Directed by Josh David Jordan

Filmed by Chad Windham and Josh David Jordan
Ochre House presents new original virtual theatre Ghosts in the Kitchen
The heart of the home is the kitchen and it's where communion, fellowship, confession, solitude, death, and life are celebrated.
Ghosts in the Kitchen is a series of storytelling through virtual theater as written and told by core company members Carla Parker, Justin Locklear, Kevin Grammer and Matthew Posey, filmed and directed by Josh David Jordan with music by Sarah Rubio-Rogerson and Justin Locklear.
Ghosts in the Kitchen presents stories of hauntings found in the realm of wandering souls who attempt to understand the complexities of life and to remember what it is like to be human. This is a series of four virtual theater events released one at a time. The original plan was to combine the four acts into a single "Ghosts in the Kitchen" event. View the trailer at right, and let us know if you'd like to see the joined plays as a feature-length presentation.
The Romantic Night
In The Romantic Night, a one-act, one-actor play written and performed by Ochre House Artistic Director Matthew Posey, Athalgarde Christhelmet walks home from his favorite bar, The Rustic Inn, and loses his way and himself in a baffling boozy world. Chance, misfortune, visitations of an Angry God, and chaos marble a journey into a secret and wondrous night of a self-destructive boozer who finds redemption by sheer luck.
The Romantic Night is a moral accounting of a man lost in a world of ever changing order. "When a crooked man walks a crooked road, all things become straight."
The production streamed Thursdays-Sundays between February 11 and 21.
"I cannot say strongly enough, you will never find a comparable performance in another theater."
By Christopher Soden (Read the review…)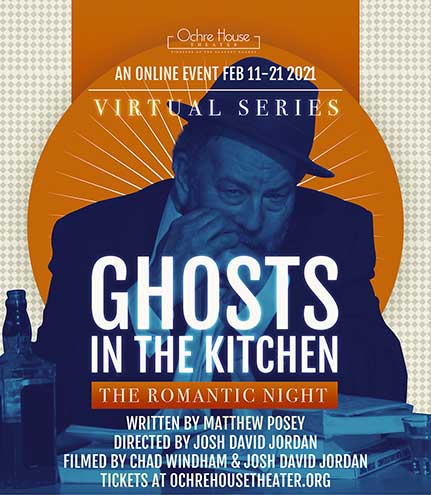 Company
Athalgarde Christhelmet: Matthew Posey
Creative Team
Writer: Matthew Posey
Director: Josh David Jordan
Camera: Chad Windham, Josh David Jordan
Music : Sarah Rubio-Rogerson
Set Design: Matthew Posey
Lighting Design: Kevin Grammer